ANGLED LUFFA See gwa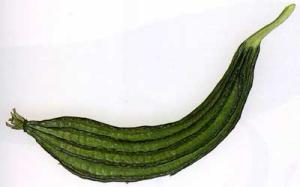 Identify this melon by its prominent, longitudinal ridges and exceptional length. Individuals usually measure 1-2 inches in diameter, 1-2 feet in length.

Select young ones, which will be dark green in color, thin, resilient, and preferably long. To test resilience, grab a prospective purchase by the stem end, lift, and waft gently. If young it will bounce slightly; if old it will be as stiff as a broom handle. Stiffness itself is not a problem - it is the bitterness associated with old age that you want to avoid.