CEYLON SPINACH Saan choi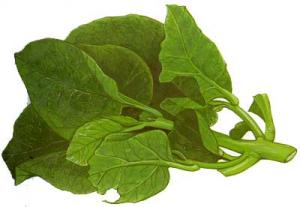 A combination of rather subtle characteristics distinguish this vegetable from the green leafy cabbages. Note that, in this vegetable, both stems and leaves have the same bright green color. The leaves themselves are broad in shape and rather rubbery in texture, and no flowers are present. Finally, note the peculiar but characteristic wide U-shape with which the leaf stalks join the stem.

Select tender young plants, characterized by bright color, lack of blemishes, and large leaves.