CHINESE FLOWERING CABBAGE Choi sum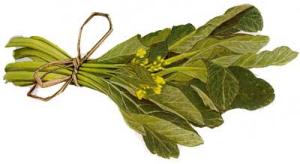 Distinguish this vegetable - particularly from its cousin Kale - by its yellow flowers, stems that are uniform in diameter and faintly grooved from tip to base, and bright green color.

The more easily your fingernail can pierce the base of the stem the more tender it is. Like all cabbages, this is sweeter and more tender when grown during colder weather.