CHINESE KALE Gai laan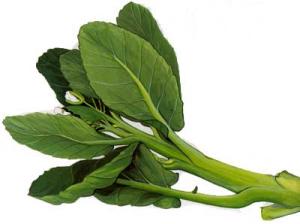 Distinguish this from other cabbages by its white flowers, the white base on its vaguely blue-green leaves, and its overall stoutness. This vegetable has stems which are smooth, not grooved, and which can reach up to 1/2-1 inch in diameter.

Select plants with unblemished leaves, more flowers in bud than in bloom, and with stalks either very thin (hence no need to peel) or very thick (hence with a large pith, which is a crisp, sweet delicacy).