CHINESE WHITE CABBAGE Baak choi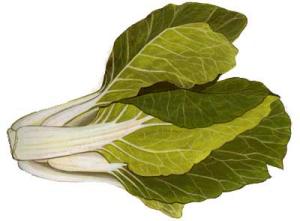 Of the many varieties of bok choy, all can generally be identified by their two-tone leaves, ivory white leaf stalks topped by dark green leaves, and by their compressed, clustering growth form.

The most reliable measure of tenderness - and flavor - is the width of the base of the oldest leaf: the wider it is relative to the length of the leaf, the more tender is the vegetable. Overall plant size is not necessarily an indicator of tenderness, although the smallest clusters, which measure about 3 inches in height and length, are indeed the choicest.