GREEN PAPAYA Mook gwa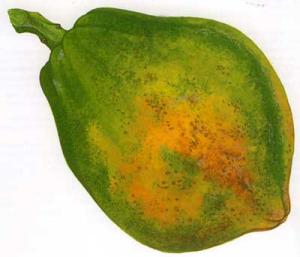 All papayas have a smooth, almost waxy skin, and a generally elongated shape, which starts broad near the stem, narrows a bit in the middle, then bellows out before tapering to a blunt point. They all also have a central cavity, which in unripe fruits has white seeds (or none) and in ripe fruits has black seeds.

Select solid, firm, unblemished fruits. Half-ripe fruits are preferred for Chinese soups, while absolutely green fruits are preferred for Thai salads.