MUNG BEAN SPROUTS Nga choi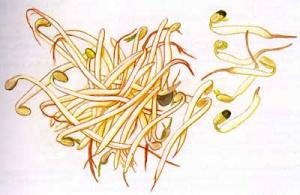 Sprouts are readily recognizable as tender, translucent shafts with a root at one end and a seed at the other. Hong Kong vendors sell three sorts: two with beans attached and one without. Of the two with beans, the smaller ones with round green heads are mung bean sprouts (the larger ones with oval yellow heads are soy bean sprouts). The bean-less sprouts are mung bean sprouts with the bean removed and are called silver sprouts, or ngun nga choi

Fresh bean sprouts are translucent white from head to tail, and form crisp-looking jumbled mounds. Young, tender sprouts are relatively short and fat, with no evidence of leaves emerging from between the bean halves.