STEM GINGER Jee geung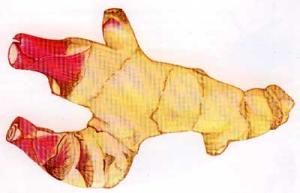 It has the shape of ginger but the clear, moist skin of a new potato. Whole pieces are irregularly branched, with branches about 1/2 inch in diameter and encircled at 1-inch intervals by beige or pinkish lines. These lines recall where leaves were once attached - as they still are on the bright pink growing tips.

The older the 'hands', the more fibrous. Select pieces with many young pink buds and smooth, clear yellowish skin.