STEM LETTUCE Woh sun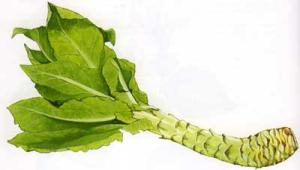 At first sight identify this vegetable by its stem: 10-15 inches long, 1-2 inches in diameter, covered with prominent reddish (leaf) scars and topped with a cluster of leaves. Note that the leaves lack stalks and have the light green color and thin texture of ordinary leaf lettuce.

Choose those with stems of large diameter and white, firm pith. Look for and avoid those with signs of wet rot, expecially on the leaf scars or at the center of the base.