WATER SPINACH Ong choi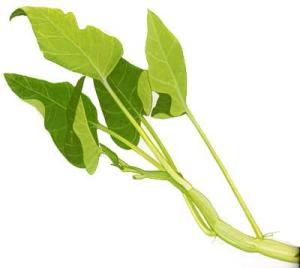 Identify water spinach by its jointed hollow stems and arrowhead-shaped leaves. There are two varieties that differ slightly in color, leaf shape, and form. The variety illustrated here is soi ong choi, and has relatively thick stems, a light green color, and larger leaves. The other variety, hon ong choi, has more slender stems, darker color, and narrower leaves.

Within either variety, the shorter the stalks and the larger the leaves at the tip, the more tender.