YELLOW CUCUMBER Wong gwa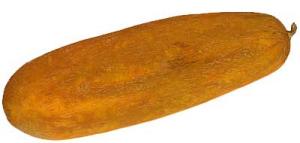 'Yellow torpedo' would be a more descriptive name for this vegetable. An average individual measures 10-15 inches in length, 4-5 inches in diameter, and 1-2 pounds in weight. The skin has a coarse netted texture, reminiscent of a cantaloupe.

For eating raw, choose smaller - hopefully younger - ones in which the flesh should be more tender. For soup, select large mature melons.